Self-Care for Kids: Out-of-the-Box Ideas to Keep Your Child Well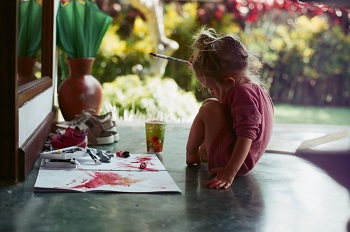 We live in a tech-driven world where screens constantly surround adults and children. And while many parents know about the importance of self-care for their own lives, some don't realize how vital it is for their child's life. Self-care has never been more critical.
With anxiety and depression trends rising in children across the country, now is the time to help our children form habits that foster their mental health. Evenbetterhealth.com lists some unique self-care activities for children to get you started!

Modeling Self-Care for Your Child
Perhaps the most impactful way to lead your child to practice self-care is to practice it yourself. Since your son or daughter constantly watches what you do and hears what you say, let them see you eating a balanced diet with moderate portions, exercising regularly, and prioritizing your sleep habits. Let them hear you speak positive affirmations over yourself and your family. And try to find fun and relaxing activities to do together.
You can also model how to value simply getting away for some fun time. Why not plan a trip to Disney World? Not only will life-long memories be made, but it's an idea that everyone in the family will enjoy. Such a destination doesn't have to break the bank, either. You can use an online resource like Mouse Life Today to find ways to save on tickets and places to stay.
Creating Art or Music
Expressing creativity is fun, but it's much more than that. Nido Early School notes that there are many benefits to playing music, writing, drawing, painting, and engaging in other art forms.
If your child is inclined towards a specific instrument or art niche, encourage them to use it as an outlet for expressing their thoughts, emotions, and imagination. You can find plenty of creative activities online!
Volunteering in the Community
Another way to foster your child's mental health is to get them involved in the community. Whether weekly or monthly, Families for Life suggests signing your child up to volunteer at a local charity. This will help them feel a sense of belonging, make new friends, and show them the value of generosity and empathy.
Going Outside
Children and adults spend ample time staring at or working on electronic devices. Naturally, it means that we are spending less time outdoors, which can be detrimental to our mental health.
Find ways to get your child outside more often. Think of fun activities you can do in the backyard, sign up for recreational sports, take family walks each day, or do anything else that helps them get a dose of vitamin D and shows them the benefits of being in nature.
Helping Around the House
A clean and organized home can do wonders for the mental health of everyone in your household. If you want to live in a positive and healthy environment, it is essential to declutter regularly, tidy, and clean your home.
While you're at it, think of ways to include your child in the process. Depending on their age, there are specific tasks they can help you with, whether it is sweeping the kitchen, vacuuming the living room, wiping down the counters, or throwing clutter away. And, of course, you want to make sure they know how to clean their room!
Encouraging Solitude
Even if your child is extroverted, they must learn the value of solitude and independent playtime. Spending time alone can teach your child about having balance in life.
If your child struggles to spend time alone, it could harm them later in life when they face various challenges and realities of adulthood. Each week, designate specific hours for your child to spend time in a low-stress environment to balance out the overstimulation they experience every day.
Having a Conversation
Finally, children need to express their emotions, and it is ideal if they can tell them to a parent or other healthy role model in their life. Let your child know that they are free to talk to you about their feelings and assure them that their feelings are valid.
Acknowledging the emotions they are struggling with can help them manage their feelings. Plus, your conversation time can serve as an excellent bonding experience.
In a world of overstimulation, children deal with different challenges than kids. Self-care is more vital than ever, and you have the opportunity to guide your child to developing self-care practices that will benefit their mental health and overall wellbeing. Consider the ideas above, and keep researching other ways to teach your child the importance of maintaining their mental health.
Evenbetterhealth.com is your online source for health articles to help you and your loved ones achieve better health and well-being.
---
Thank you for visiting our page
Self-Care for Kids: Out-of-the-Box ideas to Keep Your Child Well
!