Autoimmune Disease Resources
---
Autoimmune diseases are difficult to diagnose and even more difficult to treat. You may find, as I did, that many doctors simply will not take your symptoms seriously or they treat each symptom separately, leaving you misdiagnosed and mistreated.

This is where it is vital that you become informed. If you have suspicions that you have a particular autoimmune condition, then do some research on the internet or contact the organizations that represent your disease and then bring your information to your physician.
---
Recommended: Read the following book:
Autoimmune - The Cause and The Cure
Autoimmune - The Cause and The Cure identifies the cause and the cure for a wide range of autoimmune disorders including: Chronic fatigue syndrome, fibromyalgia, lupus, Sjogren's, rheumatoid arthritis, Raynaud's, rosacea, myasthenia gravis, Hashimoto's, type 2 diabetes, multiple sclerosis and more.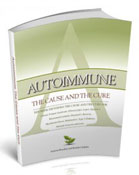 Written by Anness Brockley and Kristin Urdiales, this book is a must read which has brought together scientific research from around the world, which uncovers the cause of autoimmune disease. This collective evidence offers valid proof, not only of the cause of autoimmune disease, but also the only possible way to cure it. Every symptom of autoimmune disease can now be clearly and traced back to its origin.
The evidence proves that these diseases share a common source, and that this source is not viral, bacterial, or genetic, but originates with a fundamental lack of nutrients that are essential to the functioning of your body. Autoimmune - The Cause and The Cure offers a personalized account of suffering that has resulted in life-saving knowledge for autoimmune sufferers everywhere.
Be an advocate for yourself, and present your information to your physician. If your physician suggests that your problem is psychosomatic or nonexistent, the best option is to find another doctor, preferably a holistic practitioner who treats the body as a whole, not just a conglomeration of separate symptoms.
Holistic health care practitioners, in my opinion, are better equipped to deal with the complexity of autoimmune diseases, as they believe in prevention and in dealing with the underlying cause of the problem, versus just treating the symptoms.
If you are having trouble finding a holistic health care practitioner who understands the complexity of autoimmune disorders, you may wish to contact one of the consultants listed here.
---
Dr. Stephen B Edelson, M.D.
---
Dr. Joseph Mercola, DO
Dr. Joseph Mercola is an osteopathic physician and natural medicine expert who specializes in treating metabolic and immune system disorders. He also runs a popular alternative website at www.mercola.com.

American Autoimmune Disease Information
This organization offers information on more that 50 autoimmune disorders. www.aarda.org
---
Lorna R. Vanderhaeghe, B.Sc.
How can a hair analysis help one achieve better health? If we consider that diet is what we consume and nutrition is what we retain, then we can see that discovering what the body needs when it needs it is a valuable tool in creating health.

A hair analysis can determine which essential minerals the body is needing more of and which toxic elements it needs to eliminate. It also provides valuable insight into the body's metaoblism and what dietary changes would be most helpful for recovery.
---

Specific Autoimmune Disorders

According to the American Autoimmune Related Diseases Association (AADRA), there are approximately 80 - 100 conditions that are autoimmune related. The following is a list of 50 of the more common auotimmune disorders. For information on signs and symptoms of each, and for helpful books and resources, click on the link of the disease you're wanting to know about.
---
Additional Helpful Resource Links
---
Thank you for visiting our page on
Autoimmune Disease Resources
!